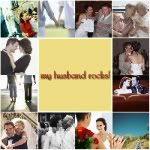 If you want to say a bit about how great your hubby is please click on the link above and get your own tab! This is such a great idea! Let's show the world that marriage is everlasting!

My husband is Eric Munoz. We have been together for over 9 years now and married for 4 1/2! Wow time flies by!
Anyway, Eric is an awesome husband and father. He will drop anything to help Bella or me when we need it. He is patient, kind, loving, and generous. He loves sports and his favorite team is of course the Texas Longhorns. (Mine as well! Hook 'Em!)
To say Eric is good at sports is an understatement. He is awesome at almost any and every sport he tries. Football, baseball, soccer, golf, pool, darts, etc. He is extremely competitive as well, which is actually a great thing because he refuses to let himself or his family fail at anything.
He is such a hard worker. He's been with his company since he graduated college,

eventhough

he used to work 60-80 hour work weeks when he first started. He's determined and makes sure he always finishes what he starts.

He loves me & Bella with his whole heart, and we both feel the same about him!

To sum up, Eric is the love of my life and my

soulmate

! I couldn't imagine my life without him.
Love you Baby!