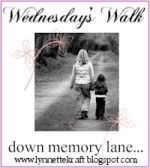 This week I will always remember:

That Bella hates getting her pictures professionally done. She cried so much until they put the black background on that was made of cloth and she said "

Blankie

!" and ran right over to it!

I'll never forget how

stressful

planning a birthday party is! Bella's is a week from Saturday, and my stress levels are high right now.



A memory from the past:

I think this one I am going to do just for Bella. Hopefully one day she can read this blog and

appreciate

it!





The day you were born...

It was a cold day in January. I had gone to Dr. Solomon the day before to get checked out because of the amount of pain I was in. He told me I was 2 cm dilated and 50%. He called down to the nurses station and booked me for 7 a.m. Friday morning. The doctor said to eat a big breakfast before coming in.

Friday morning, January 26, 2007... Eric and I wake up around 4:30 a.m. We decided to go to IHOP across the street from Seton NW Hospital. I ate so much food and am glad I did. I was in labor with you for 11 hours. Everyone came, your Grandma & Grandpa, Papa & Mary, Aunt Tanya & Austyn, Auntie Melissa, Aunt Sandra & Uncle Mark, etc.
To say I had a hard pregnancy is an understatement, but the delivery was worse. I had to keep an oxygen mask on the whole time to keep your heartbeat up. I pushed for over an hour and a half, and when you were born, I didn't get to meet you for half an hour. The doctor and nurses thought you had broken your collar bone, so they cleaned you and rushed you to the x-ray. Thank God you were fine, and when they placed you in my arm, I knew what love was. The kind of love where within that first minute of having you, I would have given my life to save yours. The kind of love that make me smile everytime someone says your name. You are the reason I am here and my reason for everything Daddy & I do! We love you Isabella Joanie Munoz!