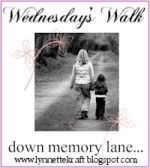 Walking down memory lane...
The end of June 2002, I was coming home from college to visit my mom. My Dad was out of town for work, and I could tell she was lonely. I called her on my way home to tell her to be dressed and ready to go out when I got there. She asked why and I told her it was a surprise. When I got there, I picked her up and took her to see "Ya-Ya Sisterhood" at the movie theater. I knew she hadn't gone out to a movie in ages, and she was so excited. Afterwards we just sat and talked at the house for hours. I was always very close with my mom, but that night she was my very best friend.
A month later she went in for surgery and never made it home. The doctors made a mistake during the surgery. My mom was in ICU for 3 weeks before passing away on Aug. 5, 2002. To say I miss her is a huge understatement. She was not only my mom, but my best friend. I will never forget the night I got to spend with my best friend.
My Mom & Dad in Puerto Rico 2001.