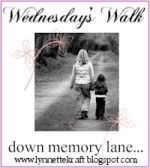 So I am probably not going to do this right, but on Wednesday's I am going to walk down memory lane. First I am starting with the past week and the main things I will remember always...
1) Bella tries so hard to say Bananas, but every morning lately when she asks for one she says
Naners
please! It's the funniest/cutest thing ever!
2) Eric & I realizing that we can actually have time away from Bella and still have fun and enjoy ourselves! (I did call his parents about 20 times to check in, but I am forgetting about that right now!)
3) I will never forget watching the Fiesta Bowl with Eric and the very last play UT had. Eric was in his recliner the whole game, until the last play where he slowly got up and got closer to the TV. When we scored the winning touchdown he leaped up and jumped all over the living room yelling and cheering! He only gets that happy during UT games!
Here some memories about me & my family I'll never forget...
1) We thought Bella was very slow on getting on her feet and walking. She didn't even start crawling until 11 months old! But at 14 months we had a physical therapist come over to the house because she wasn't pulling herself up and/or walking at all. She came over and
literally
the minute she started working with Bella, Bella got up and took 3 steps! The PT looked at us like, "Why am I here?!"
2) To show you how romantic my husband is not, on our first dance at our wedding reception, Eric whispers in my ear, "Where are the bathrooms at?"
Ahh
now that's love people! :)
So please click on the button on the right hand side to get the rules off the post I copied this from. Have a great Wednesday!