Here's some great blog hops for Friday!!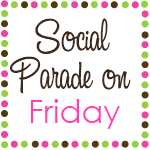 This weekend we are starting to get into the Christmas (Holiday) spirit! We're taking Bella to the annual Domain tree lighting Saturday night. They will be having tons of cute things for the kiddos plus fireworks & of course lighting the tree! She is super excited & so are her parents! Ha!
Sunday, we are putting up our Christmas tree & decorations at home. We usually put them up the weekend after Thanksgiving, but since we're having Thanksgiving at our house this year, we wanted the house to be beautiful & festive! Afterwards, we are meeting Eric's family for dinner at the Iron Cactus for my SIL's birthday! (Happy Birthday Sandra!!)
Also, Roxie is doing good. She was very quiet and still most of the night. I brought her bed downstairs for her to sleep in while we were up and she started shaking because she was so cold, so I moved her closer to the fireplace & put a blanket over her and that seemed to do the trick. She slept most of the night & this morning was still groggy but doing well.
We hope everyone has a wonderful weekend!