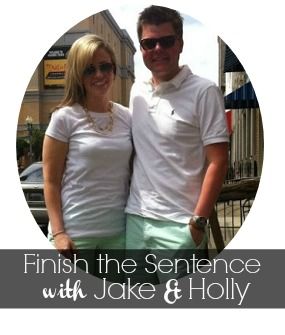 It's LINKUP TIME with Jake & Holly. Never done this so this should be interesting!
My happy place...
is anywhere that I can sit on a patio drink Miller Light, eat chips & queso, & watch college football. Pretty much makes for the perfect day.
Whatever happened to... regular sitcoms?! I am not a fan of much reality tv & miss the really good funny 30 minute sitcoms from the 80's & 90's. Might be why I force my kiddo to watch The Cosby Show every Saturday and Sunday morning!
So what if I.... have a kegerator in our garage?! I'll be honest, we are babysitting it indefinitely, but we love that damn thing! We've never had so many people wanting to hang out at our house on the weekends before! Which is perfect because we can drink and just walk upstairs afterwards.
E! needs a reality show about... I saw this on someone else's answers & totally agree... Miranda Lambert & Blake Shelton. They seem like such an amazing, funny, down to earth couple. They would make an amazing show!
My go-to fast food meal is... when I'm dieting and working out constantly... Chicken Cobb Salad from Wendy's. It's actually pretty good! When I'm wanting something extremely unhealthy... turkey original sandwich from Schlotzsky's. Love those darn things!
You might not know that I... pretty much work with all men. I work with around 30 guys & 2 other women. Yeah you would think it's drama free, but you'd be wrong! They are actually worse than women about gossip.
The hottest quarterback in the NFL is... 49'ers quarterback Colin Kaepernick. OMG he is yummy... have you seen the pic of him sans clothes floating around Pinterest? Hello!!
If I could.... blog for a living I totally would! I love writing, researching, etc. I'd be in Heaven!
Twerking is.... an idiotic thing a girl does to get guys to notice her. You know what guys notice? A girl who is sexy without trying so hard.
I think it's super gross when... people pick their teeth (and other places!) in the car. I don't want to look to my left at a stoplight and see that!
Someone needs to tell Miley Cyrus....
that we get it, she's not a Disney tween anymore. But why the hell does she feel the need to show every body part she DOESN'T have to everyone?! And for the love of God keep your tongue in your mouth!!